Features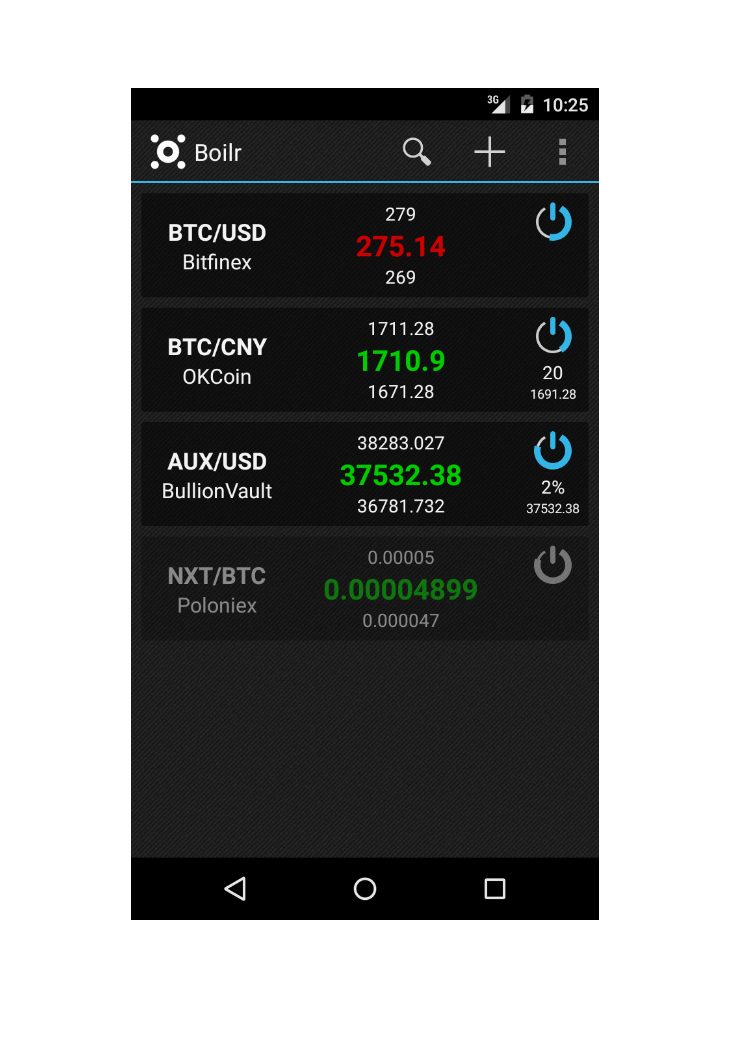 Boilr is a free, as in freedom, Android app which monitors Bitcoin, cryptocurrencies, cryptoassets, futures and options, and triggers price alarms according to your settings.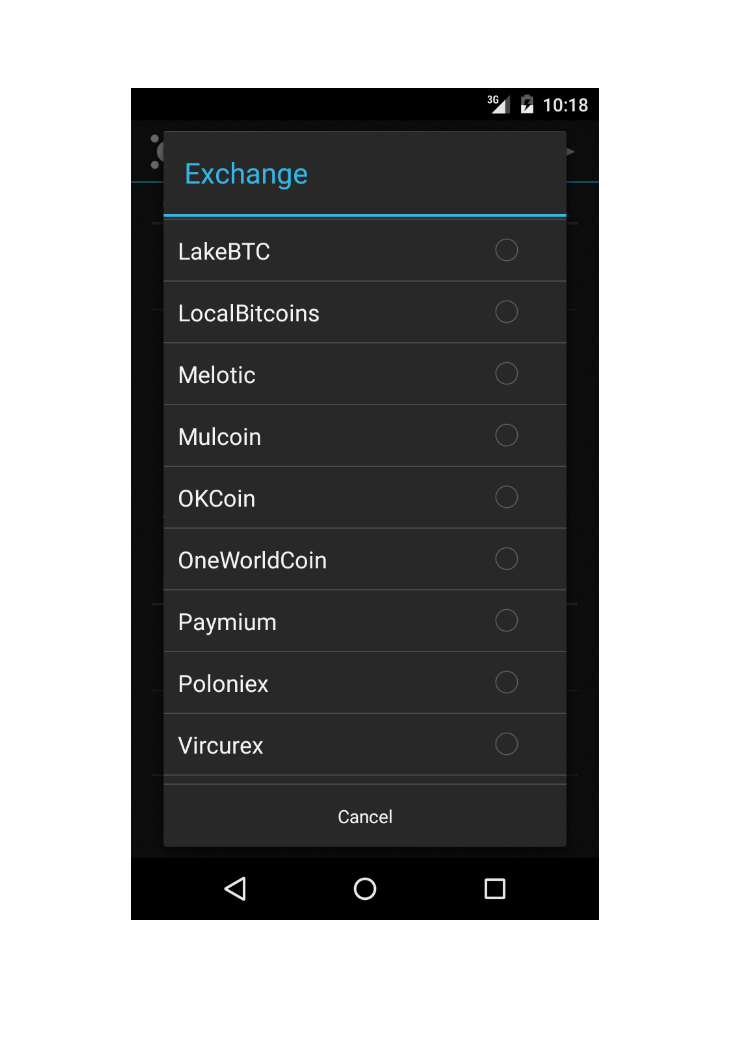 Boilr supports 90+ exchanges and all their pairs.Market data is retrieved directly from the exchanges via Wi-Fi or Mobile Data (if allowed), using libdynticker.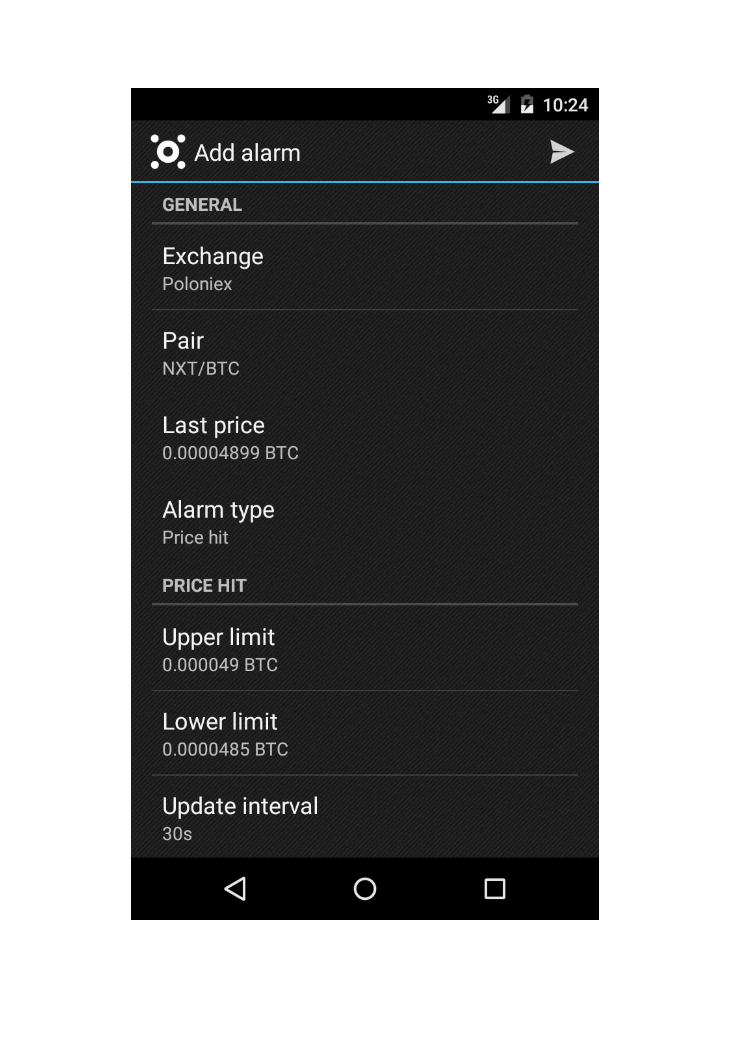 Price HitTriggered when price crosses the alarm's upper or lower limit. One limit may be left empty to create an alarm with a single trigger.
Price ChangeTriggered when price changes more than X amount (in currency or percentage) in a specified time frame (e.g. 15 min). It uses a rolling time frame: price is fetched with a given update interval (e.g. 30 s) and compared with the price fetched one time frame ago (e.g. 15 min ago).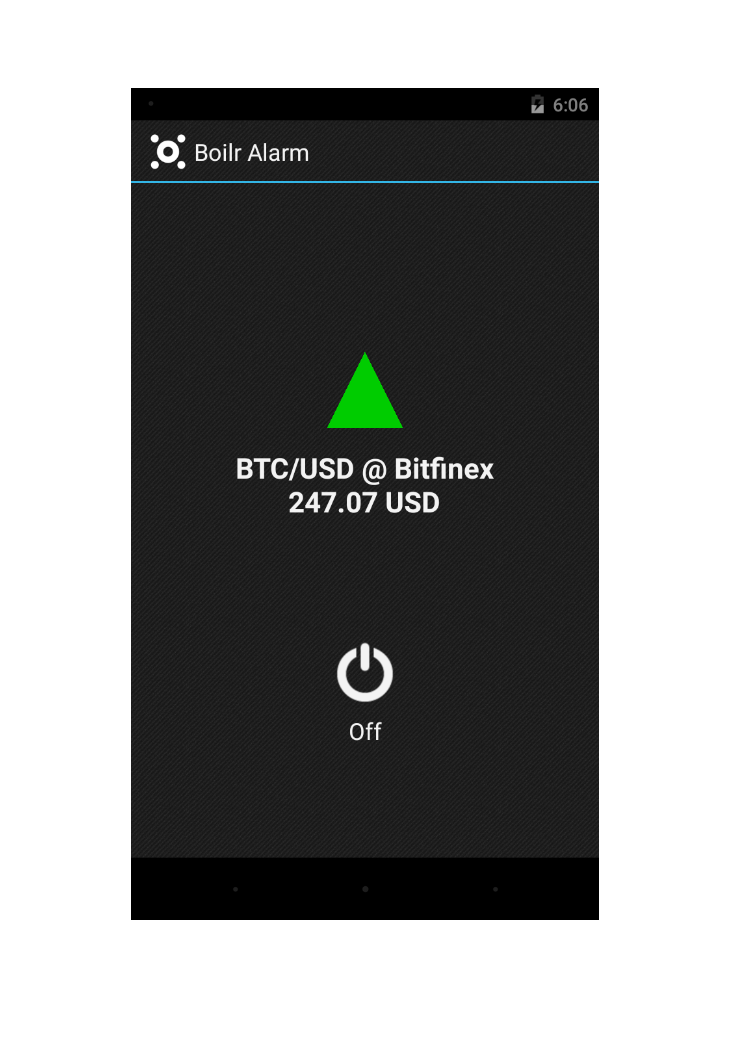 Triggered alarms ring, displaying their status, until you turn them off. Just like an alarm clock.Alarms can also be set to snooze automatically on price retrace.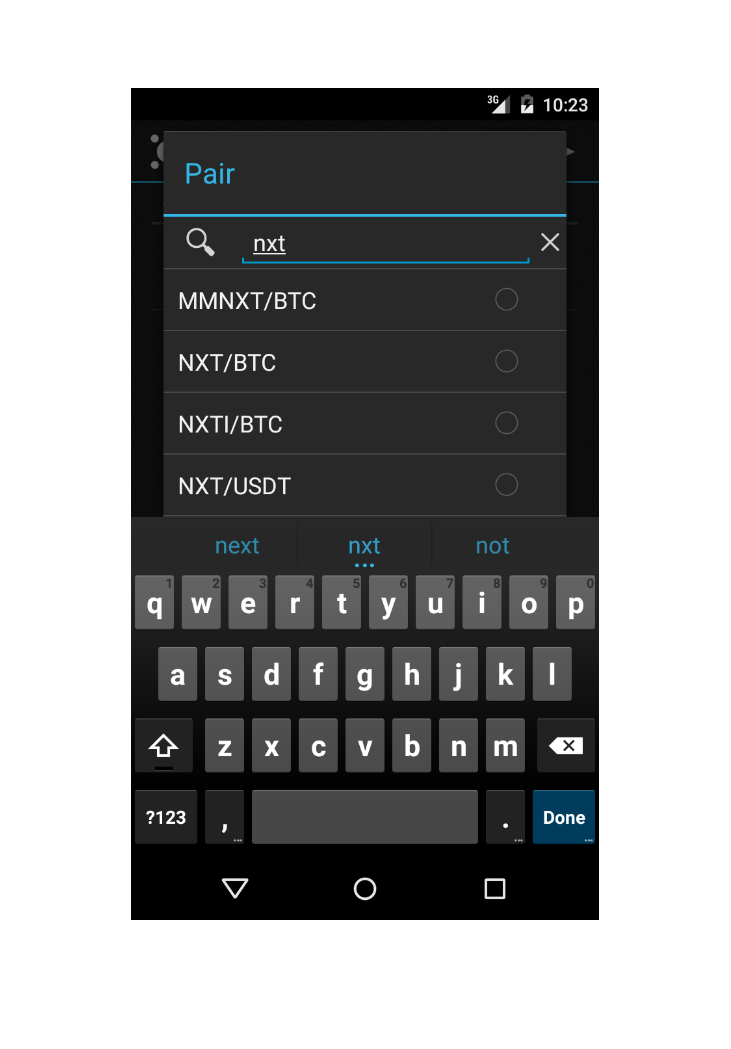 Lists of exchanges, pairs and alarms are fully searchable, allowing quick alarm setup and configuration.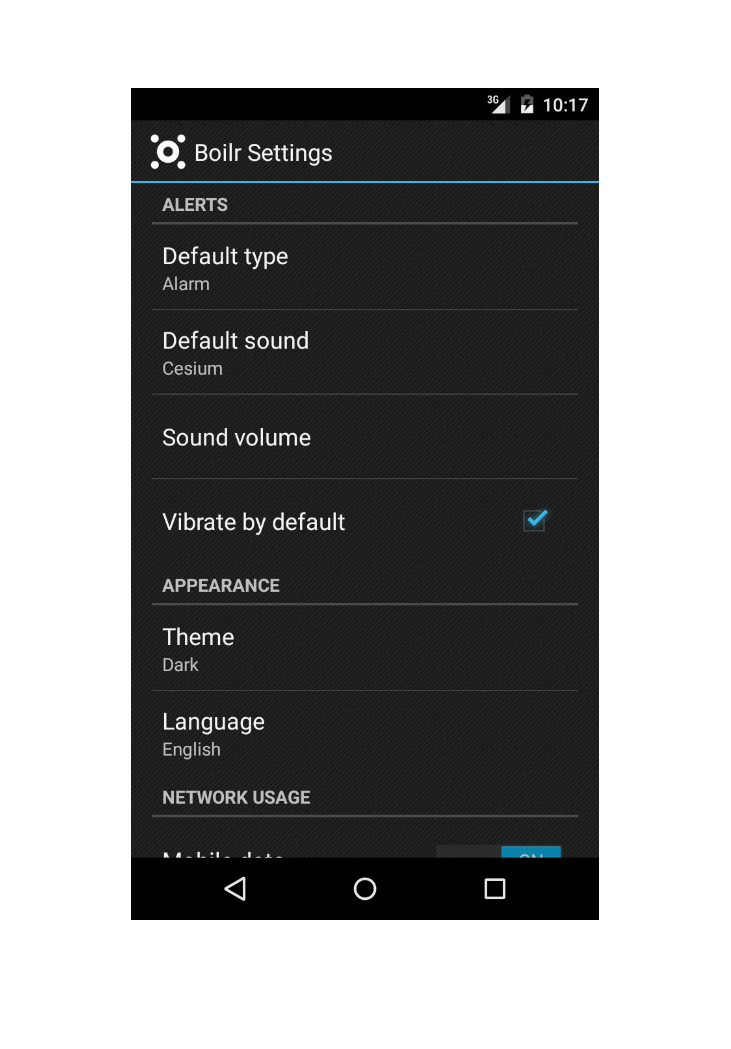 Sound and vibration are configurable globally and individually for each alarm.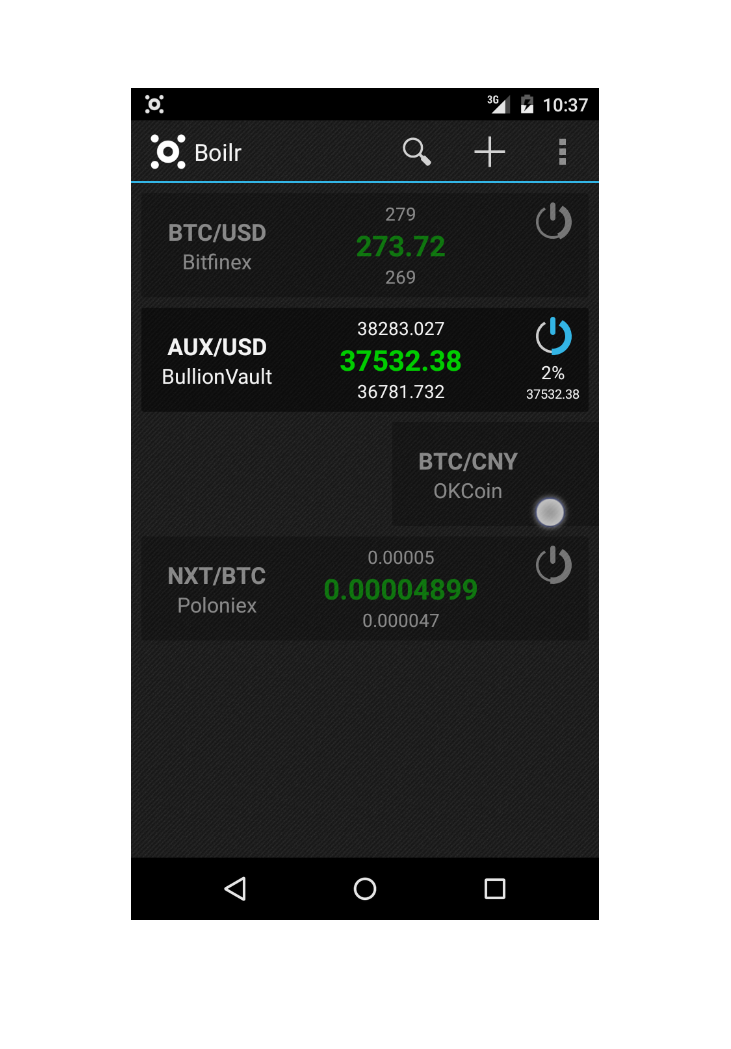 Delete alarms with a swipe.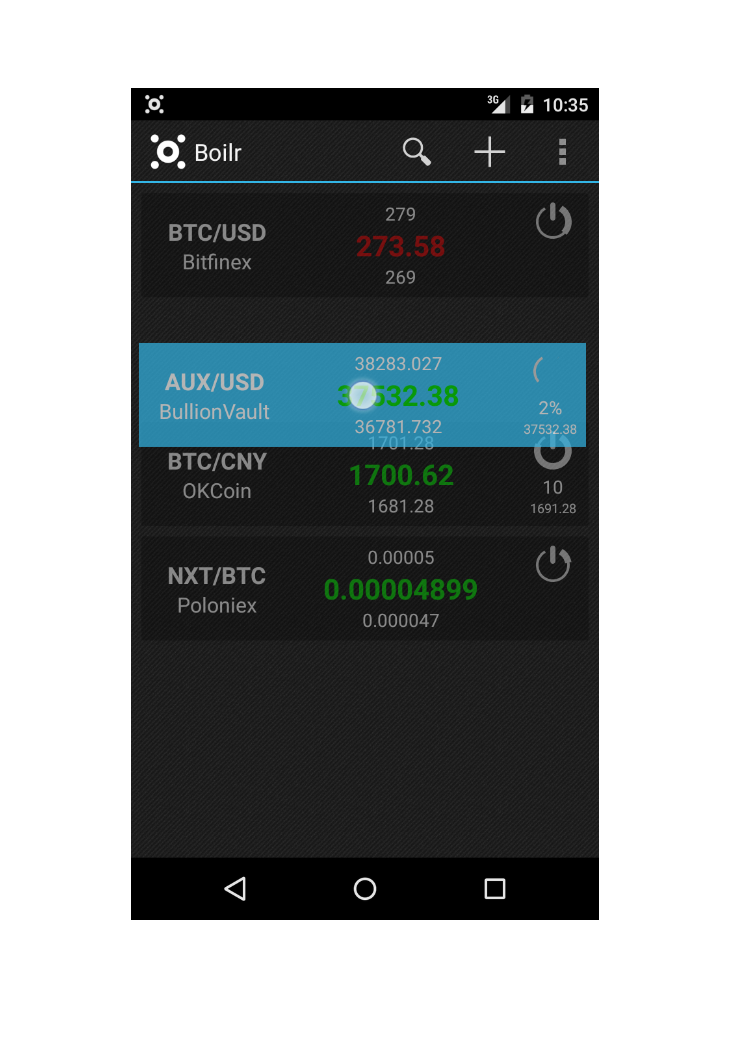 Reorder alarms after a long click.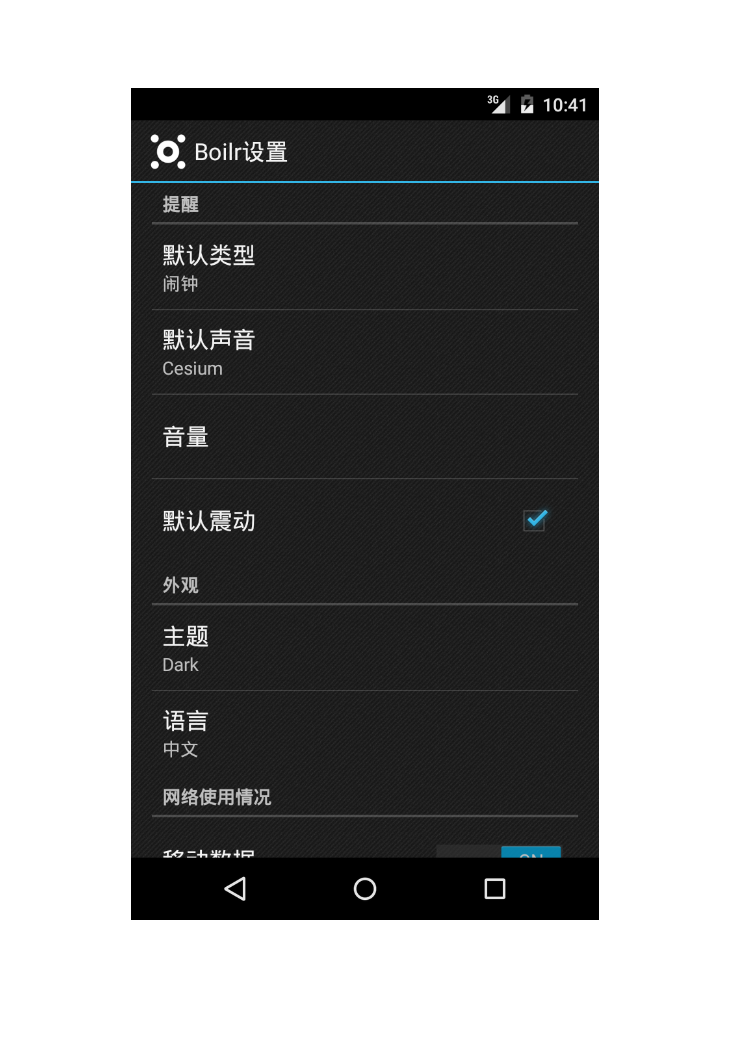 Supports multiple languages: Chinese, Czech, French, German, Italian, Japanese, Polish, Portuguese, Russian and Spanish.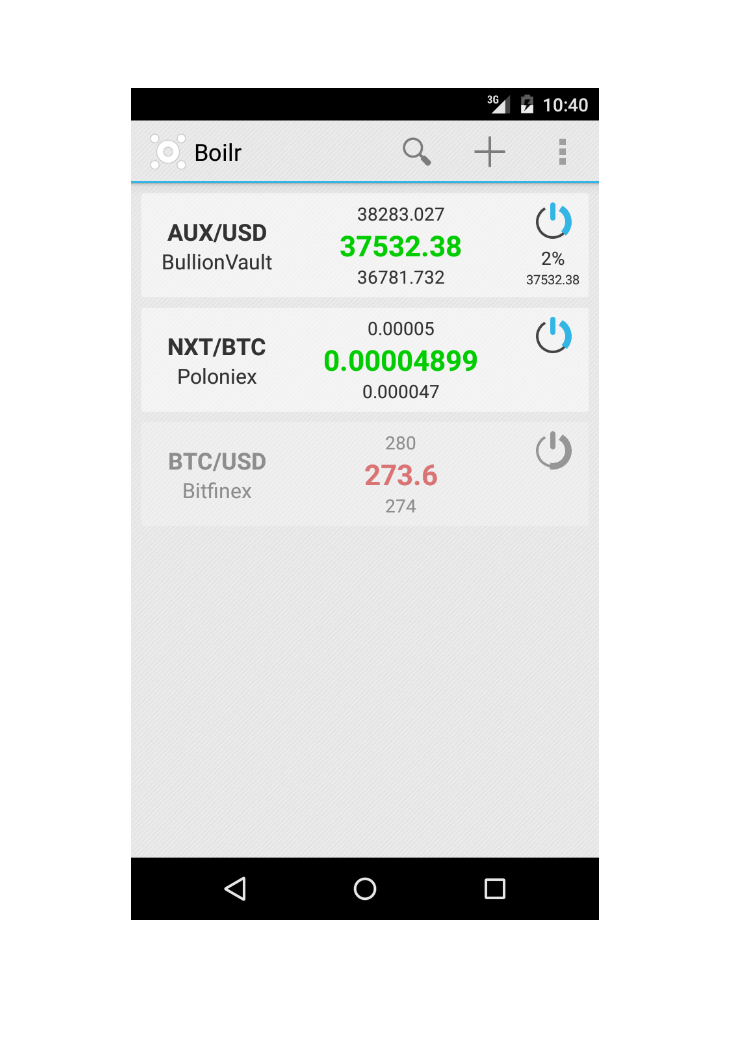 There is an alternative light theme.
Support
Bug reports, feature requests and general help questions should be submitted on our GitHub issues.Try being specific when choosing the right title and label for your issue.
You can browse through a FAQ by checking all issues labeled as questions.
Permissions
| Permission | Reason |
| --- | --- |
| Read the contents of your SD card | Used to fetch your custom ringtones. |
| Disable your screen lock | So you can turn off a ringing alarm without unlocking your device. |
| Full network access | To fetch data from the exchanges. |
| View network connections | To know whether you're using Wi-Fi or Mobile Data, allowing Mobile Data restriction. |
| Run at startup | To grab your active alarms and start updating them. |
| Control vibration | Allows vibration when an alarm is triggered. |
| Prevent phone from sleeping | Used to keep showing the alarm triggered activity until you press the turn off button. |
Supported Exchanges
Digital Securities Exchange
Thailand Bitcoin Exchange
Donate or Tip
Boilr is (free as in freedom) software. If useful, consider making a donation or sending a tip:

Bitcoin

Monero
43KcTwXw5D43YRE8MSG4D7X3S2kjU6ehBABucyKAVNYnKbNxpGWZ8zGbEhCq79N4ZGDtefU5w4AGoeR6eNB5yMbEPhAw3FT

Litecoin
LUC5BRtvrJRTcp2LAP1XJe2h718rchQXuR

Ethereum
0xBFD1802F928db59324b67689D1186661a124FBcA